"the Grand Teton flexes its peak and brutally slaughters the admiration I had for its faux brother now evaporated from thought. This is living."
The Teton Crest Trail is 63km/39mi of trail on the western crests of the Teton range. A range of mountains named by a french trappers originally called "Les Trois Tetons" which translates to "The Three Breasts", so if you like boobs, have boobs or just wanna see boobs, be prepared to be mesmerised by luscious mountain mounds. The trail is well marked and easily accessible from a number of points. The main trail starts by taking a Gondola in Teton Village up to the trail, but the cost will set you back around $45usd pp. I am sure as exhilarating as the ride must be, to avoid these costs we hiked up Granite Canyon to intercept the trail at Marion Lake, tacking on a few extra miles and an extra night. But the canyon was beautiful and we are pleased to have saved the dollars.
More Trail info and a map can be found here:
https://www.hikingproject.com/trail
Before we delve into the wonders of my experience on the trail. This time around lets take a look at what goes on behind the poetic glory that is the wild. And I would like to share with you an informative guide to hiking this spectacular trail first. If your in it just for the story, feel free to skip the facts. Otherwise If one left the Tetons having not ventured further than 10miles from there car they haven't experienced the Tetons to there fullest, so pay close attention and I will get you sorted.

Preparations
We keep it budget, Evelyn our car keeps us warm when our tent is suitable. But in order to do this hike I would recommend, however your style, a night in Jackson, Wy. A magical winter town snuggled amongst Teton National Park, Americas wealthiest avoid taxes in there foothill's by setting there address to there mountain mansions. So naturally everything is expensive, but these hints should save you a few bucks!
Food and Trail Snacks
Lucky's Market was trail gold to us! Found a little outside the township it offers a huge range of bulk goodies! We bagged up oats, threaded coconut, almonds and dried berries for breakfast, every item based on what was on sale, enough each for 4 mornings. The almonds also made there way alongside double chocolate coated peanuts, yoghurt pretzels, corn nuts and banana chips for a tasty trail mix.(Charlottes (my wife) impressive naming skills "fruity pretzel nut melt") 10 for $10 on the Clif Bars (my top pick being Coconut Chocolate chip). Our usual freeze dried mountain house meals being substituted for "Taste Bite" packet meals, a delicious array of Indian curries that can be boiled and eaten inside their packet. For those who like to be a little prepare beforehand, items can be acquired here:
Clif Bars
Trail Mix
Healthy Breakfast Oats
Really you need not carry too much more, and cant! As it is required that a Bear Canister be carried with you the duration of the trip. They are heavy and bulky in the pack, but are free with your permit (help with that written below). For those that honour a light pack and can often be found in wild territory, I would highly recommend purchasing this lighter more practical canister prior.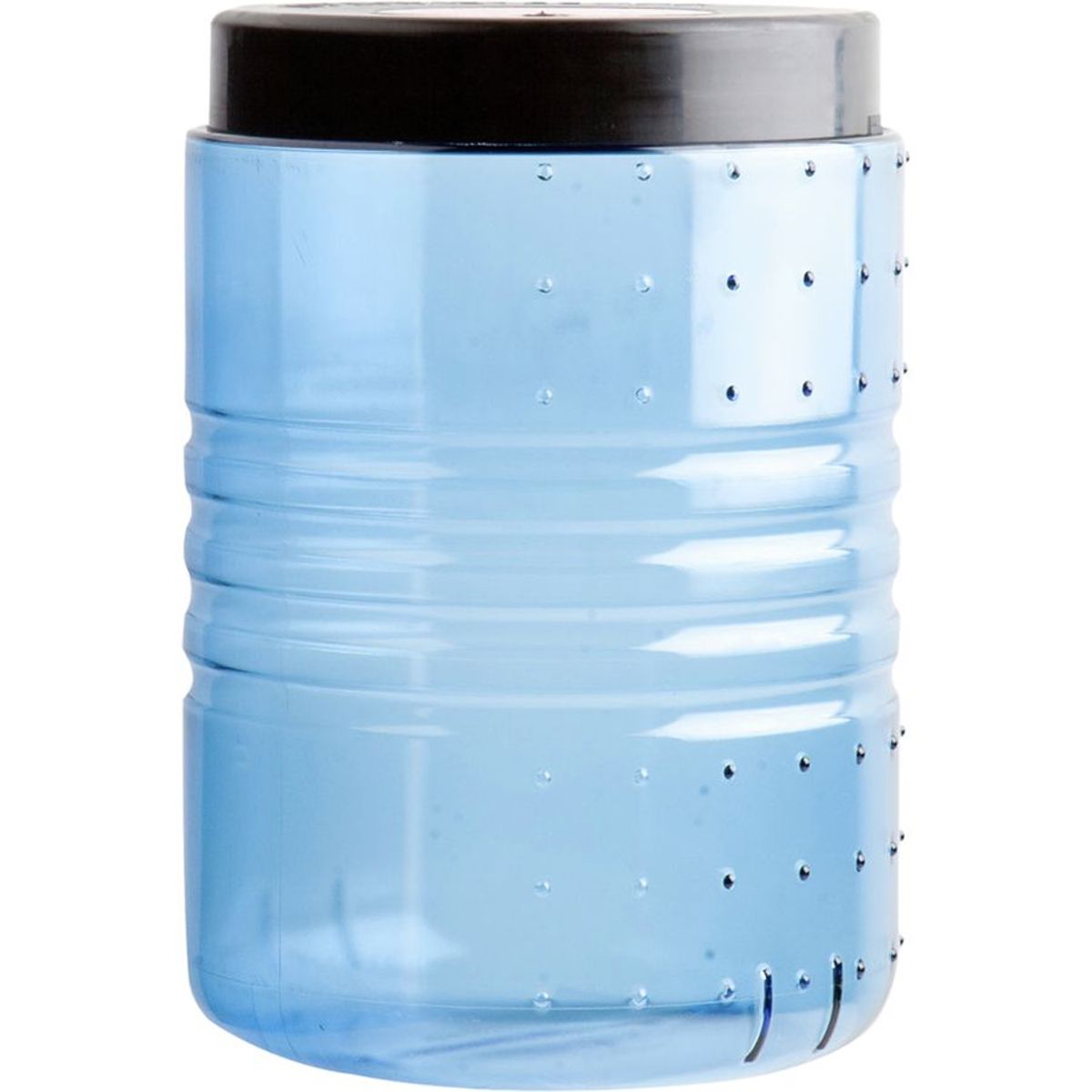 Permits weren't too bad to acquire though do take some form of commitment. If staying in Jackson you want to make your way to the Moose Visitors Centre 21km/13mi outside Jackson. The lineup starts pretty early, but if you set your alarm and get there by 6am you may have to wait a couple of hours but you wont regret it when you have the prime campsites to your name. If the Teton Crest Trail is for you, then you probably have a bit of backcountry skills already. But if not don't be shy to ask the friendly folks at the back country desk any questions. I came in pretty blind with information on the trail, but Tripp the park ranger (along of course with Steve and Mindi in the line-up) we dealt with at the desk was very informative and explained everything we needed to know. The permit cost for your entire party will only set you back $25usd no matter how many nights you intend to stay out.
Im not going to give you a full list run down on what gear is ideal. If your hanging on my every word as to what you should pack, then you should probably hike something shorter and easier. But I throw caution into the wind and ask you pack sensibly, and to the conditions. And with that disclaimer lets delve into the adventure;

Day 1 Granite Canyon
A granit kingdom built like modor stones either side. Alien spaceship rocks plow like icebergs into a green hillside. Mans made his steps using Gods splendour its decor. Jackson Hole with its elite and rich, I wonder if they have stepped these steps or collected dept or assests. I feel richer than a millionaire following the granite canyon creek and basking in its toad green translucent render.

Theres a natural exelloration that pulses through your veins. Its an endorphin knockout. Our private meadow, a painters teasel of colour from a seasons last surviving wild flowers. I pick a fighters bouque of flowers that survived. So saturated in my mission, I felt footsteps as quick as I heard them. Fear had only a split second to linger as less than a few metres a fawn as emensly consumed in his mission examined every aspect of me, alas the tall grass took back his fancy and his stomach overwelmed him. A moment of simple natural pleasure.


Day 2 Granite Canyon – Death Canyon Shelf
Arriving out of the canyons in fields of mountian flowers, something like a cartoon in a 3 dimentional state. Papa Smurf toasting smurfette and Hefty as I stomp through like Gargomal, then into Springfield, Homer strangling Bart in fatherly love, my little pony collides with both worlds, bloom bloom a sanctimonious cluster of vibration, light and matter. The harsh grey mountain stones showing there true colors. Marion lake reveals herself vulnerably to an exposed sky. We vulnerably expose ourselves too, and slip into arctic melt believing were alone, spalsh a little in a shizzering fit, our bodies screaming at the temperatures. Crazy naked dancing on the shore to vibrate our muscles back to feeling, charlottes chicken dance and low theres people quietly reading in the surrounding trees.

Leaving the lakes flustered by the perverse eyes of those on the opposing shore, we felt rejuvenation and confidence swell within as a steep climb theough the Tundra Wilderness and the first peak "Mt Meek" of the Tetons rises into perspective. We started to climb foreseeing kings, but darkness seemed inevitable with a turn up a shambled mess of exposed trail to Death Canyon Shelf. A high pitched scream echod through the winds. A scretching cat starvation pleads maybe? Or a maybe hyenas plotting there prey, the screams louder and louder. And then! "Steve!!! Allan!!! Steve!!! Did someone say my name?!" Two marmots perched in a boulder, spying our movements, noses to the wind, bathing in a pleasurable sweat scented aroma.

Premature excitement led me to believe we were humbly in the grace of the Grand Teton. An epic peak striking my narrowed vision had me fooled. Mt Meek, was the view and the Death Canyon Shelf was where we set the tent that evening. So failing to take advantage of the cliff drop views and a pit of fear lodged in our gut that some sneaky mutt, lion or bear would get as excited about our dinner, we re-packed, re tracked and refracted glare on our MSR cooker basking in the evening sun drop along the death canyon cliff edges. Feeling like the king of the jungle, I tried a few of my best howls as a semi full moon presented itself low, large and levitating along a red smokey horizon.


Day 3 Devils Shelf – South Cascade Fork
I woke in the stillness of dawn the quiet gentle peace before light, the air pocessed filiments of frost that licked the skin. The early start had me lusting the trail, being at its doorstep felt so inviting, a day of endless possibilities.

Alaska basin around 9am, meek mountain sillouetted against the sun, constantly protecting us from the glare, he would rise but we would step closer to the mountain. A dance in alignment with soul, stone and sun. The basin was so surreal, part of me wished we had camped here the evening. Everything about it felt so alive, the greens of summer, the breath amongst the rocks, the slippery streams and the mountain gods that incompased it all.

Energy peaking, still in mornings forgiving state the climb up hurricane ridge, the air clearer, a clearer state of mind, ecstasy. Still under the false pretences that the Grand Teton had been and passed, witnessed yeah, appreciated?, maybe not. But ignorance is bliss and we continued into an unknown horizon, blocked by the ridge. Despite my heart thundering against my chest, I switched my breathe to intake more air with shorter sharper exhales, innnnnnn and out. Faster up the ridge, separating from my domesticated natural habitat and adapting a wilder side. Victory rose above the ridge-line in magnificent splendour, imitations made a mockery in mind as the Grand Teton flexes its peak and brutally slaughters the admiration I had for its faux brother now evaporated from thought. This is living.

Descending through south cascade amongst the giants, disappointment and anxiety pulsing through every vein, the thought of leaving the awe and beauty of the Grand seamed emptying, downwards and backwards. The river flowing alongside us seemed to mock us, the suns full rage now crashing down right atop our heads, humidity gaining density with every step. Each step now getting harder, constantly trying to gain reassurance from my phone, that camp was just around the next corner. When that corner finally came, all prior thoughts were washed clean with the rock that was to be our home.

Like the Marmots that found home amongst mountain stones, we too found refuge in there palms. A small crack in her fingers quenched our thirst, cooled our bones and like any life bearing waters we found berries at her shores and spent our evening forging our feast, some sweet, some sour all the while my hands now stained avatar blue, the colour that least represented my mood, life is glowing gold.


Day 4 South Cascade Fork – Holly Lake
The cameras dead, only God and some technician at Fuji knows the symptom. I snapped one final iPhone picture and then too it became dead wait in the tech graveyard osprey pocket. In true too blog fashion and fairness to my blind audience this blog is fading to black. Just words no pictures.

Sliting through mountain shadows along a trail in the stillness of morning. The river a crashing fall through the canyon. Accent become fimilar through our boots once again, until despite the coolness of morning we started to taste the sweat that leaked the pores. Solitude lake sits placid in a ice patched cave of mountain rocks. The mint green surface struck with lashes of white reflections as the last of the snow sat broadcasting itself to a smokey sky. Like holy fools of the trail, we gasped for air in its chilling waters. A humbling gesture to honour the raw beauty of the lakes dignity. The deathly freezing waters couldn't engrain its lifeless impression on us. I laughed in the face of its attempts, and let out a scream of how good it is to be alive.
The decent up paint brush divide a series of long grueling switchbacks, rubble and sleet, skeet on the feet, my sweaty toes feeling there harshness under vibram soles. My sole full of awe struck wonder at the mountain peaks recealing there crowns like kings in a game of thrones. The top couldnt have come sooner as the water in the canteen could be heard splashing lifeless and alarming on the bottom, an oh dear god moment as thirst carved its way down my throat. Prayers answered as the mountian top leaked its snowmelt sweat through a creves in its body. We swallowed the sap with gleeful hearts. The views at our highest elevation 10,720ft in a full smoke encompass of Mt Woodring. Day hikers now in abudance as a long weeked draws the selfie selfless to the ridge and the sudden civilisation hit has me tech envious. The decent was less forgiving, deep droping rubble trail. The snow remaining on the peaks looked pitiful and I mocked them in my mind, but they got the last laugh as the took control of parts of the trail and there slippery slopes brought tears and awakened Charlottes fears, patience not my forte.
Holly lake our camp that evening. Its shores, fields of long grass and the familiar flowers. We swam for the second time that day, our bodies climatized to the chill. Chilling to a book and a buffet of remaining tandoori delly delights. Mormans on a mission stop by our blanket. Like brothers we embrace, Jesus our common ground. Cant but admire the Joseph Smith evangelism oozing in their presence, he would have been proud. There youthful enthusiasm highlights, despite our label these are Godly men and women with moral integrity, admirable hearts that indeed christ inspired, we will cross with again.
(S.N. we met a chap who had a solar charger and like the potential cures for RP lingering on the horizon I will restore some sight back to our adventure.)

Day 5 Holly Lake – String Lake
A red sunrise enforcing the severity of 2017s wake up call on global warming and the north western fires raging out of sight. Fatigue starting to make itself known all I can do to keep my mind from lunch is watch foot prints be painted to the canvas of the trail, the horizon a soft haze of fluffy pink. Descending through Paint brush divide as string lakes lilac lustre watermarked by an artistic Adonis. Burrito consumes my thoughts, counting people (92) a game of labour crazy day survival. Finally our foot placements levelled out and the lake which seemed an artists impression now a tangible possession. And the tables turned. A full view of the ranges seeming like a distant dream.

The final hike, more a triumphant march. But there clearly no honour in aura, as our only trophy our pride and our thumb pointing upwards as we hitch back to the car. Through the clouds of stench omitting our bodies a kind soul and a sweet ride was made known in Jill and before we knew it, once again Evelyn sat waiting safe and sound at the trail head.